Bosch LA3-VARI-B comprehensive set of array loudspeaker
Brand
Bosch
Model Code
LA3-VARI-B
EN54 certified
Neither
Rated power (PHC) [W]
13..25
Speech and/or music reproduction
Speech and background music
Mount type
Flush
Model Info

The Bosch Vari-directional Array series is a comprehensive set of array loudspeakers to address people with clear intelligible messages in large reverberant spaces. These active units utilize integrated digital signal processing and high efficiency class-D amplifiers. Using a PC configuration program the array can be adapted to the venue where it is used and its sound output optimally aimed at the audience, creating a maximum direct to ambient sound ratio, for best intelligibility given the circumstances.
Related products
Read more about Bosch
Bosch Security Systems is a leading global supplier of security, safety, and communications products, solutions and services. The product portfolio includes video surveillance, intrusion alarm, fire alarm and voice evacuation systems as well as access control and management systems. Professional audio and conference systems for communication of voice, sound and music complete the range.
Additional information can be accessed at www.boschsecurity.com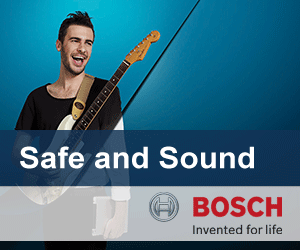 More Bosch products
SourceEN54.EU, the comprehensive source for
EN 54
certified
voice alarm
and public address systems & components.
Copyright © 2009-2021 Notting Hill Media Limited