Product in focus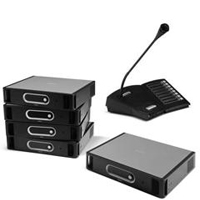 Bosch Praesideo
A fully digital public address, voice evacuation system that meets all the requirements placed by professional users. It brings highly innovative and advanced digital technology to the public address market. The processing and communication of both audio signals and control data entirely in the digital domain makes the system superior to other public address and emergency sound systems.

Product features like redundant cabling, spare amplifier switching, system supervision from microphone capsule up to last EVAC compliant loudspeaker, unique WLS "Wire free" line and loudspeaker supervision, up to 256 priority levels for background music, business- and emergency calls, fault logging and 48 Vdc backup power position this IEC 60849 certified...
Read More
What is EN 54?
EN 54 is the European standard for voice alarm products. It is part of the European Union's Construction Products Directive. The use of EN 54 certified products for all new voice alarm installations became mandatory in April 2011.
This requires products to be tested by an independent, accredited test laboratory and certified by an accredited certification body.
Subsidiary standards govern the requirements for:
SourceEN54.EU, the comprehensive source for EN 54 certified
voice alarm
and public address systems & components.
Copyright © 2009-2021 Notting Hill Media Limited