Bosch LBB 1968/00 Plena feedback suppressor
Brand
Bosch
Model Code
LBB 1968/00
Model Info

The Plena feedback suppressor uses a powerful DSP with a patented algorithm to suppress acoustic feedback. It actively filters out unwanted room reverberations using an echo-cancellation and de-reverberation algorithm. By adding masked (inaudible) noise to the output signal or by shifting the frequency of the output signal by five hertz, the Plena feedback suppressor is able to detect the reverb component of the signal and remove it before feedback occurs.
Related products
Read more about Bosch
Bosch Security Systems is a leading global supplier of security, safety, and communications products, solutions and services. The product portfolio includes video surveillance, intrusion alarm, fire alarm and voice evacuation systems as well as access control and management systems. Professional audio and conference systems for communication of voice, sound and music complete the range.
Additional information can be accessed at www.boschsecurity.com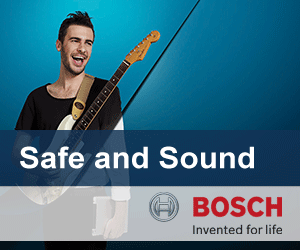 More Bosch products
SourceEN54.EU, the comprehensive source for
EN 54
certified
voice alarm
and public address systems & components.
Copyright © 2009-2021 Notting Hill Media Limited