Bosch LBC 3406/16 rectangular horn loudspeaker
Brand
Bosch
Model Code
LBC 3406/16
Opening angle at 4 kHz (degrees)
51..80
Sound pressure level [dB] at rated power (1kHz, 1m)
> 120
Model Info

The Bosch professional horn loudspeaker system allows a range of different driver units to be installed into the various horns. The system includes four horns, three circular types with aperture diameters of 255, 380 and 510 mm and a rectangular model with an opening measuring 390 x 235 mm.
Related products
Read more about Bosch
Bosch Security Systems is a leading global supplier of security, safety, and communications products, solutions and services. The product portfolio includes video surveillance, intrusion alarm, fire alarm and voice evacuation systems as well as access control and management systems. Professional audio and conference systems for communication of voice, sound and music complete the range.
Additional information can be accessed at www.boschsecurity.com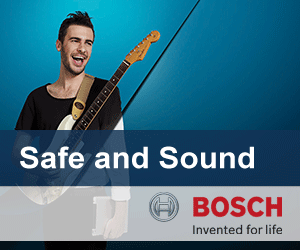 More Bosch products
SourceEN54.EU, the comprehensive source for
EN 54
certified
voice alarm
and public address systems & components.
Copyright © 2009-2021 Notting Hill Media Limited