Bosch LC1-UM24E8 ceiling loudspeaker with excellent speech and music reproduction
Brand
Bosch
Model Code
LC1-UM24E8
EN54 certified
Neither
Rated power (PHC) [W]
13..25
Sound pressure level [dB] at rated power (1kHz, 1m)
101..110
Power tapping
Yes
Speech and/or music reproduction
Speech and high quality music
Mount type
Flush
Model Info

The LC1 Modular Ceiling Loudspeaker range can be used for a wide variety of ceiling environments. They provide excellent speech and music in indoor public address applications. The range offers a choice of four loudspeakers distinguished by input power, opening angle and sound reproduction. It includes two 6 W single cone loudspeakers offering a choice of opening angle and two high performance 12 W and 24 W coaxial loudspeaker drivers. They all have the same grille size and can be used in combination with the same mounting accessories. The loudspeakers are suitable for use in air-handling spaces when installed with the LC1-MFD enclosure. The loudspeaker frame includes provision for mounting the optional pilot-tone indication board or WLS board and has standard a light conductor to indicate the pilot-tone status.
Related products
Read more about Bosch
Bosch Security Systems is a leading global supplier of security, safety, and communications products, solutions and services. The product portfolio includes video surveillance, intrusion alarm, fire alarm and voice evacuation systems as well as access control and management systems. Professional audio and conference systems for communication of voice, sound and music complete the range.
Additional information can be accessed at www.boschsecurity.com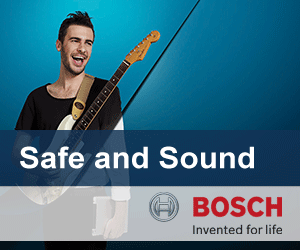 More Bosch products
SourceEN54.EU, the comprehensive source for
EN 54
certified
voice alarm
and public address systems & components.
Copyright © 2009-2021 Notting Hill Media Limited