Bosch PRS-CSRK call station remote kit
Brand
Bosch
Model Code
PRS-CSRK
Redundant network controller, hot-standby
Yes
Model Info

The PRS CSRK is a PCB with the same functionality as the remote call station, PRS CSR, but without its housing and other components. It is for the construction of custom applications. It connects via a CAT-5 cable, one-to-one, to the call station interface, PRS CSI, which is part of the Praesideo optical network. The CAT-5 cable, carrying digital audio and control data, can be as long as 1 km. The length of the CAT-5 cable is not a part of the Praesideo optical network length. This considerably increases the overall possible length of the optical network.
Related products
Read more about Bosch
Bosch Security Systems is a leading global supplier of security, safety, and communications products, solutions and services. The product portfolio includes video surveillance, intrusion alarm, fire alarm and voice evacuation systems as well as access control and management systems. Professional audio and conference systems for communication of voice, sound and music complete the range.
Additional information can be accessed at www.boschsecurity.com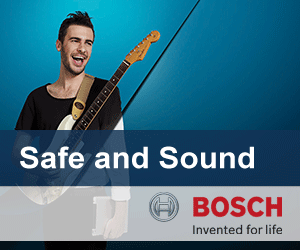 More Bosch products
SourceEN54.EU, the comprehensive source for
EN 54
certified
voice alarm
and public address systems & components.
Copyright © 2009-2021 Notting Hill Media Limited