Bosch PRS-FINS Fiber Interface Single Mode
Brand
Bosch
Model Code
PRS-FINS
Redundant network controller, hot-standby
Yes
Model Info

Most of the Praesideo system units have plastic fiber optic interfaces. Plastic fiber is used to interconnect nodes which are less than 50 meters apart. For distances of more than 50 meters, glass fiber optic cable is used. A fiber interface converts from plastic to glass fiber, and vice versa. The fiber interfaces have a power supply input to provide power to remote network sections, and two control inputs. The control inputs can pass on supervision information about the power supply connected to the fiber interface.
Related products
Read more about Bosch
Bosch Security Systems is a leading global supplier of security, safety, and communications products, solutions and services. The product portfolio includes video surveillance, intrusion alarm, fire alarm and voice evacuation systems as well as access control and management systems. Professional audio and conference systems for communication of voice, sound and music complete the range.
Additional information can be accessed at www.boschsecurity.com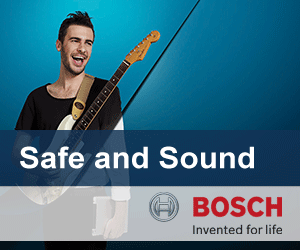 More Bosch products
SourceEN54.EU, the comprehensive source for
EN 54
certified
voice alarm
and public address systems & components.
Copyright © 2009-2022 Notting Hill Media Limited