Bosch PVA-4CR12 PAVIRO controller with low power consumption in standby mode
Brand
Bosch
Model Code
PVA-4CR12
Number of zones
<60
Loudspeaker line supervision: 100V loop
Yes
Model Info

The Bosch PVA-4CR12 controller is the central paging manager for the PAVIRO system. Eight local audio inputs can be switched to four audio outputs. A two-channel message manager is integrated. The controller provides all the audio processing, supervision and control functions for a complete PAVIRO system. A single controller supports up to 16 call stations and 492 paging zones. The controller is equipped with 12 zones, 18 GPIs and 19 GPOs. One controller can handle up to 2000 W loudspeaker load. Additional zones and power can be added by using up to 20 external routers and 40 amplifiers with each 2 ? 500 W.
Related products
Read more about Bosch
Bosch Security Systems is a leading global supplier of security, safety, and communications products, solutions and services. The product portfolio includes video surveillance, intrusion alarm, fire alarm and voice evacuation systems as well as access control and management systems. Professional audio and conference systems for communication of voice, sound and music complete the range.
Additional information can be accessed at www.boschsecurity.com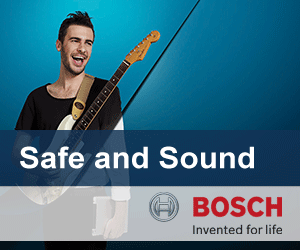 More Bosch products
SourceEN54.EU, the comprehensive source for
EN 54
certified
voice alarm
and public address systems & components.
Copyright © 2009-2021 Notting Hill Media Limited