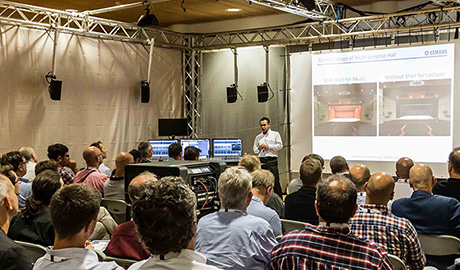 The bespoke system comprised a 10m x 8m x 4m truss, populated with 56 Nexo and Yamaha loudspeakers and driven by networked Nexo and Yamaha power amplifiers
For the past nine years, Yamaha Music Europe has organised an annual system designer's conference. In 2007, the first conference attracted 30 delegates. This year over 120 gathered at the Valencia campus of Berklee College of Music, where they witnessed an exceptional cross-industry collaboration between Yamaha, Barco, Dolby and Unique Cinema Systems.
Networking and discussing with other audio professionals
Hosted at the appropriately futuristic-looking Palau de les Arts Reina Sofia, Yamaha's annual system designers' conference is an opportunity for delegates to discuss ideas, technology and best practise with other audio professionals from throughout Europe. The theme of this year's two-day conference was Multi-Channel Audio for Entertainment and Professional Communication and, for the first time, it featured multiple manufacturers. As well as Yamaha, participating companies included Barco, Dolby Laboratories, Nexo, Revolabs, Steinberg Media Group and Unique Cinema Systems.
Three rooms were set up with bespoke audio systems to host the various seminars. For sessions on three-dimensional audio reproduction, a joint project between Barco Audio Technologies, Unique Cinema systems, Dolby Laboratories and Yamaha saw a bespoke lecture theatre constructed to support the Yamaha AFC3, Dolby Atmos and Barco's IOSONO Immersive Sound specifications in a single, shared system.
Yamaha and Nexo audio solutions
The system comprised a 10m x 8m x 4m truss, populated with 56 Nexo and Yamaha loudspeakers and driven by networked Nexo and Yamaha power amplifiers. The Dante and MADI-based system was managed by a single Yamaha MRX7-D signal processor, which merged the three multi-channel inputs from a Yamaha AFC3 Active Field Control processor, a Dolby Atmos RMU processor (controlled by Nuage Digital Audio Workstation) and an IOSONO CORE processor.
"We wanted to make this an interactive conference with very high share of hands-on - or rather 'ears-on' - content. Building the bespoke workshop systems involved complex logistics, but everybody worked seamlessly together to make it happen," says Ron Bakker, systems marketing manager at Yamaha Music Europe.
Another space, Studio 81, saw a full-scale Dante network with switches, i/o racks, mixing consoles and DSP engines being demonstrated. It also featured a Disklavier grand piano, seamlessly integrated with Yamaha's MusicCast wireless audio distribution system to demonstrate advanced hospitality applications. Meanwhile, a full conference system was installed in Sala B (Hall B) to demonstrate multi-channel wired and wireless microphone systems, local PA for conferencing and distant communication using a combination of technologies, including Automatic Echo Cancelling.
"As a professional audio manufacturer, our annual conferencus on technology and
es foc
design workflow"
General topic presentations
In addition to the three main demonstration areas, a range of more general topics was presented in the venue's Aula Magistral hall. These included new applications of software-defined media, immersive audio solution concepts and design, 2.4GHz wireless microphone technologies and 2D/3D live sound limitations and perspectives.
Guiding the sessions were audio professionals from all of the participating companies, including Stephan Mauer (Barco), James Puig (Dolby Laboratories), Nicolas Poitrenaud (Nexo), Holger Stoltze (Revolabs), Brendan Woithe (Steinberg Media Group), Tor Brede Michielsen (Unique Cinema Systems), Karl Christmas, Masahiro Ikeda, Masato Hata and Takayuki Watanabe (Yamaha Corporation of Japan), Andreas Juwan, Arthur Koll, Christoph Stepan, Gerrit Carstens, Michael Geise, Ron Bakker, Ruben van der Goor and Thomas Hoffarth (Yamaha Music Europe).
Success of conference
"Thank you so much for putting together such a great conference," says David Gleeson, head of recording at the Royal Academy of Music, London. "The panels were all wonderfully put-together, informative and enjoyable. It has been incredibly helpful to learn about state-of-the-art technology directly Yamaha and the other partners. Having the opportunity to discuss all of this technology outside the sessions, along with fellow guests, sharing your expertise really complemented the sessions. Having the opportunity to network with fellow invitees was also invaluable."
"Above all, I must thank you for your unfailing hospitality and good nature throughout, which made the trip such a great success. "
"As a professional audio manufacturer, our annual conferencus on technology and es focdesign workflow." adds Nils-Peter Keller, Senior Director Pro Audio and AV Group at Yamaha Music Europe. "But we do that with an approach from our core DNA - which is music and, more generally, emotion. This is why we are so glad that Berklee College of Music was prepared to collaborate on this project."
"The Valencia campus has a 100% creative atmosphere, so we felt very much at home. It was already full of Yamaha instruments and PA systems, so adding our workshop systems felt completely natural."
"Berklee College were extremely helpful hosts and we are particularly grateful to production manager Gael Hedding and production supervisor Lucas Martin.," adds Ron.
"We really appreciated this opportunity to work with Yamaha on the conference," responds Maria Martinez Ituttiaga, executive director of Berklee College of Music. "We have a long relationship with Yamaha Music Europe (Iberia) and we enjoy using a lot of Yamaha instruments and audio equipment. Many of our master phase students attended sessions and the collaboration was really beneficial to us."